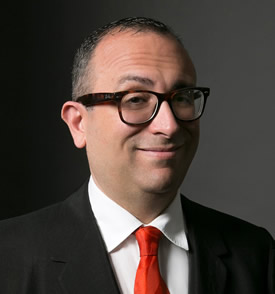 Children the world over know Dan Yaccarino from his children's books, Parent's Choice Award-winning animated TV series Oswald (Nick Jr), Emmy-winning Willa's Wild Life (NBC and Qubo), and character designs for The Backyardigans (Nickelodeon), as well as his many illustrated toys, games, and other children's products. In addition to his own stories, Dan's bold, stylized illustrations add wit and energy to the work of such distinguished authors as Margaret Wise Brown, Jack Prelutsky, and Kevin Henkes.
Dan's internationally recognized art style has earned him a large following in Japan, exhibits in New York, Los Angeles, Tokyo, and Bologna, and a visit to the White House. He is also a contributing children's book reviewer for the New York Times.
Dan's books have been translated into many languages and have inspired animated series, toys, ebooks, children's musicals, and video adaptations. People all over the world enjoy Oswald, Dan's animated series about the wonderfully whimsical world of a lovable octopus, which Time magazine chose as one of the top 6 shows to watch on cable. Animation Magazine hails him as "an American original."
Dan's work has been recognized with a host of prestigious awards including the Bologna Ragazzi, The New York Times 10 Best Illustrated, ALA Notable, and the Parents Choice Award. Over 1.5 million of his books have been sold to date.
Dan lives with his family in New York City and creates his quirky characters and stories in his studio full of vintage toys.
CONTACT
» Studio 212 675 5335
» Email yaccarinostudio@gmail.com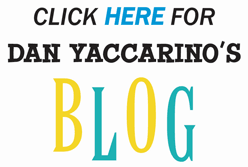 March 11- May 14, 2017 Dan's retrospective exhibit of his work in children's books, THE FANTASTIC WORLD OF DAN YACCARINO, will be on display at the PLEASE TOUCH MUSEUM in Philadelphia, PA. Click here for details
April 4 Dan will be presenting to the Polk Street School in Franklin Square in Long Island, NY.
April 6 Dan will be presenting to Alfred Vail Elementary in Morristown, NJ.
April 7 Dan will be presenting to the New Hyde Park Road School in New Hyde Park, NY.
April 25 Dan will be presenting to PS86 in the Bronx, NYC, NY.
May 15 to May 19 Dan will be on tour for his new picture book MORRIS MOLE to Books & Co. in Dayton, OH, Kids, Ink in Indianapolis, IN, The Book Stall in Chicago, IL and Wild Rumpus in Minneapolis, MN.
May 23 Dan will be presenting to Westorchard Elementary school in Chappaqua, NY.